Category B (Car) to C+E (Class 1 Lorry)
From November 15th 2021 if you hold a valid UK car licence you can go straight to a Class 1 / C+E course.
You will have to have the C+E provisional entitlement put on your licence first. To do that you will need to send your driving licence off with a completed D2 application and D4 medical form completed by a doctor.
When they return your licence with the C+E provisional entitlement electronically on your licence – you're green light go for training!
If you already have the Category C provisional entitlement, email extraprovisionalentitlement@dvla.gov.uk with your name, date of birth and driving licence number and they will update your licence. No need for extra medicals or sending away your driving licence again.
Free driving assessment (once you receive your licence back from the DVLA)
Theory tests (Multiple choice, Hazard perception & CPC Module 2)
10 DAY TRAINING COURSE
Category C Module 3 driving test
CPC Module 4 practical test
C+E | Class 1 Module 3 driving test
*All practical tests are conducted at NDC which is a DVSA approved test centre
Everything you need to take you from a car licence to fully qualified Class 1 | C+E Lorry driver £3645.00 inc VAT
Why we do training and test in a Category C | Class 2 first?
We offer it this way because if you take an 8/9-day course with one final test at the end, THAT'S A LOT OF PRESSURE! The reason for doing any LGV training course is to get a lorry licence at the end to be able to go and get your new HGV job. Having a test halfway through on the Category C | Class 2 will hopefully ensure that you leave training with this licence as an absolute minimum.
What if I fail the Category C test?
Then you have a decision to make – at this point you will realise that a DVSA driving test is not easy!

You can use some of the remaining course money to fund a retest and extra training (If you need it) to go ahead and pass the Category C to ensure you can finish training with an HGV licence to go for your chosen driving job. After that you can then progress to the C+E course if you would like to and our instructor agrees you have the ability to get there.

If you are happy with the Category C licence and think the C+E is now not for you then NDC will refund you the difference. This is our NDC guarantee.
What if I don't want to take the Category C test?
This is something we can talk through when you come for your free driving assessment. NDC never forces anyone to do anything. After we have seen you drive we will have a better understanding of your base driving ability and the chances of passing either the Category C or C+E test. Then we can discuss the various options available to you.
Why the FREE driving assessment is so important at NDC
Unlike other companies, we assess everyone before we agree course dates or take a single pound from you! That way we can give you honest feedback on your driving and that this course length will be suitable. It may be longer, it may be shorter. Depending also on your experience in other large vehicles. So that is why we take the time to get to know you and your driving first. It also gives you the opportunity to see us!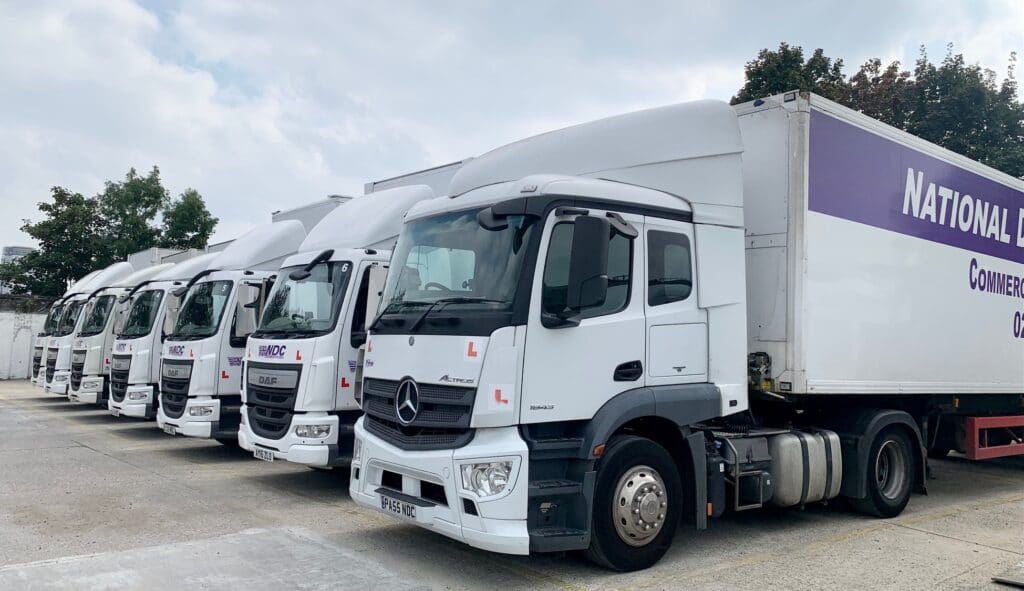 B to HGV Class 1 Training
C+E Training
GOVERNMENT APPROVED DVSA TEST CENTRE
The National Driving Centre is a Government Approved LGV/PCV Driving Test Centre. The only combined training and test centre in London.
For your HGV Class 1 & LGV C+E licence
This is your's for the week, so give us a call to get your HGV Class 1 C+E driving licence!

available from 07:00 – 17:00
Address Territorial Army Barracks, Mitcham Rd, Croydon CR0 3RU