PCV PSV D Category Bus licence
PCV PSV D Category Bus licence
Bus driver training and Coach driver training comes under PCV driver training. You will need this category to drive a passenger-carrying vehicle over 17 seats for hire or reward.
If you want to become a bus driver … you have come to the right place.
NDC train for major bus companies in London supplying hundreds of newly qualified drivers for London and Surrey and you can be one of them using our Dennis Dart automatic single-decker buses.
If you have the category D qualification then getting a job as a bus driver should be simple. There are always vacancies and we can put you in touch with the major companies that will offer you an interview (subject to their initial conditions).
If you want to drive a manual coach then you can still train on an automatic bus which, on passing, will allow you to drive a manual bus/coach provided that you originally passed your car test in a manual vehicle.
Your 'All Inclusive' PCV D Category Bus Course costs only £1,350 for a full 5 days, testing at our own DVSA test centre in Croydon if you have some experience. If you are a car driver with no experience, then a 7 day course may be more appropriate at just £1,620
Your PCV D Category Bus course includes:
FREE driving assessment
On-site FREE parking at our purpose built training centre in Croydon
All three of your theory tests. Hazard perception, muliple choice and CPC Module 2
Five/Seven days intensive tuition
Your practical driving test at our own test centre
Your pracital test. Module 3.
Module 4 tuition and test (this is included for FREE during your course with us)
Test where you train as we are a government approved Test Centre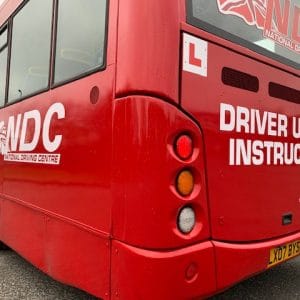 Call NDC for all the forms you need for your licence application
Have a commercial drivers' medical with a doctor to say that you are fit and well to drive a lorry.
Apply to DVLA for the provisional C entitlement which allows you to drive a lorry as a learner.
Attend the National Driving Centre for your FREE Assessment to ensure our five-day intensive course will be suitable for you.
CPC Module 2 plus multiple choice/hazard perception theory tests are all booked for you on the same day at the local theory test centre.
Receive the dates for your five-day lorry course.
Your practical test is on the last day of your course with your module 4 test incorporated during that week.
Does any other company offer all this for the same price?
GOVERNMENT APPROVED DVSA TEST CENTRE
The National Driving Centre is a Government Approved LGV PCV Driving Test Centre. The only combined training and test centre in London.
Fantastic fleet of vehicles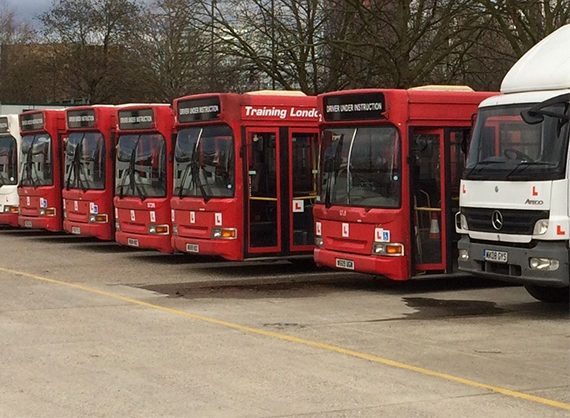 You will be training and testing in one of our own vehicles.
Test and train in the same vehicle!
NDC is a unique Driver Training Company
available from 07:30 – 18:00
Address Territorial Army Barracks, Mitcham Rd, Croydon CR0 3RU